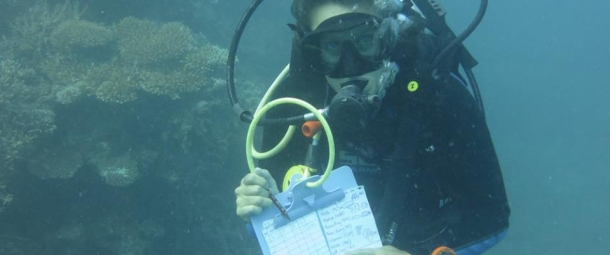 Bleaching monitoring with the Coral Database
Following a coral bleaching event observed in the Maldives, a joint effort was made by MRC and project REGENERATE of the IUCN to invite marine biologists, divers and marine enthusiasts to contribute to the reporting of coral bleaching being observed across the Maldives. Many resorts, dive centres and educational institutions responded positively to the request by registering in the web-enabled coral database.  MRC and project REGENERATE jointly conducted a stakeholder training workshop on June 25, to train 30 participants on the use of the coral database.
Noteworthy is the contribution by the Marine Biologist at Lux Maldives (South Ari Atoll), Ms. Chiara Mascetti, who carried out bleaching monitoring in Kobir Thila, close by Lux Maldives with the assistance of Euro divers and volunteers of Maldives Whale Shark Research Program (MWSRP), using the bleaching protocols developed by project REGENERATE and MRC. Although the database is still being developed and improved, Chiara has been actively using it, and in doing so, helping with identifying issues in the database hence contributing to the improvement of the database.
The coral database is a web-enabled database, developed with support from the Climate Adaptation Programme (CAP, previously the Climate Change Trust Fund, CCTF) and the Government of Maldives, EU and Australia, to support the National Coral Reef Monitoring Framework (NCRMF) of the Maldives. The database was initially piloted with 5 participating resorts within the first phase of the CCTF project after it was brought live in November 2013. The second phase of the project is expected to begin in September, focusing on Addu City and Southern Maldives.
Currently more than 32 organizations including 16 resorts, 3 academic institutions, 4 dive centers, 3 NGOs and other governmental organizations are registered with the database, with some already reporting bleaching and benthic data via the database. The data reported by organizations will be used to assess the status of the coral reefs, and to form a better understanding of the health and conditions of the Maldivian reefs.
More contribution to the database will definitely help us enhance our knowledge about our reefs. If you are interested in assisting with MRC's coral reef monitoring, register yourself at coraldatabase.gov.mv.
Contact our Senior Research Officer Mr. Nizam Ibrahim on how you can contribute to the Coral Reef research conducted by Marine Research Centre.