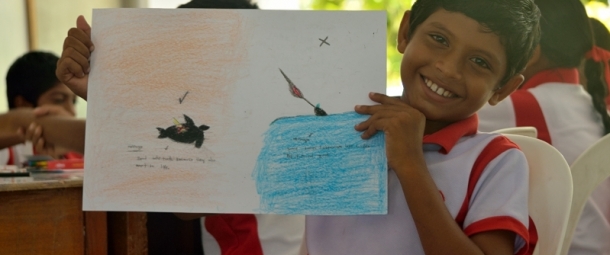 Awareness Session on Sea Turtles and other Marine Life at Laamu Gaadhoo
Information sessions on conservation of sea turtles and marine resources were conducted by the Marine Research Centre in Laamu Gaadhoo on 2nd June 2015. Senior Research Officers of Marine Research Centre, Khadeeja Ali and Mohamed Shimal, conducted the sessions to which students from grades 1 to 5 of Laamu Gaadhoo School attended. The students were given information on sea turtle biology, current threats sea turtles face in the Maldives and explained why their island, Laamu Gaadhoo is such a special place for sea turtles of the Maldives. The students were also given information on ways to conserve sea turtle populations. 
After the session on sea turtles, another information session on conservation of marine life was also conducted. This session highlighted on the type of marine life they would normally encounter on coral reefs, their function in the ecosystem and on ways to conserve the rich marine diversity of the Maldives.